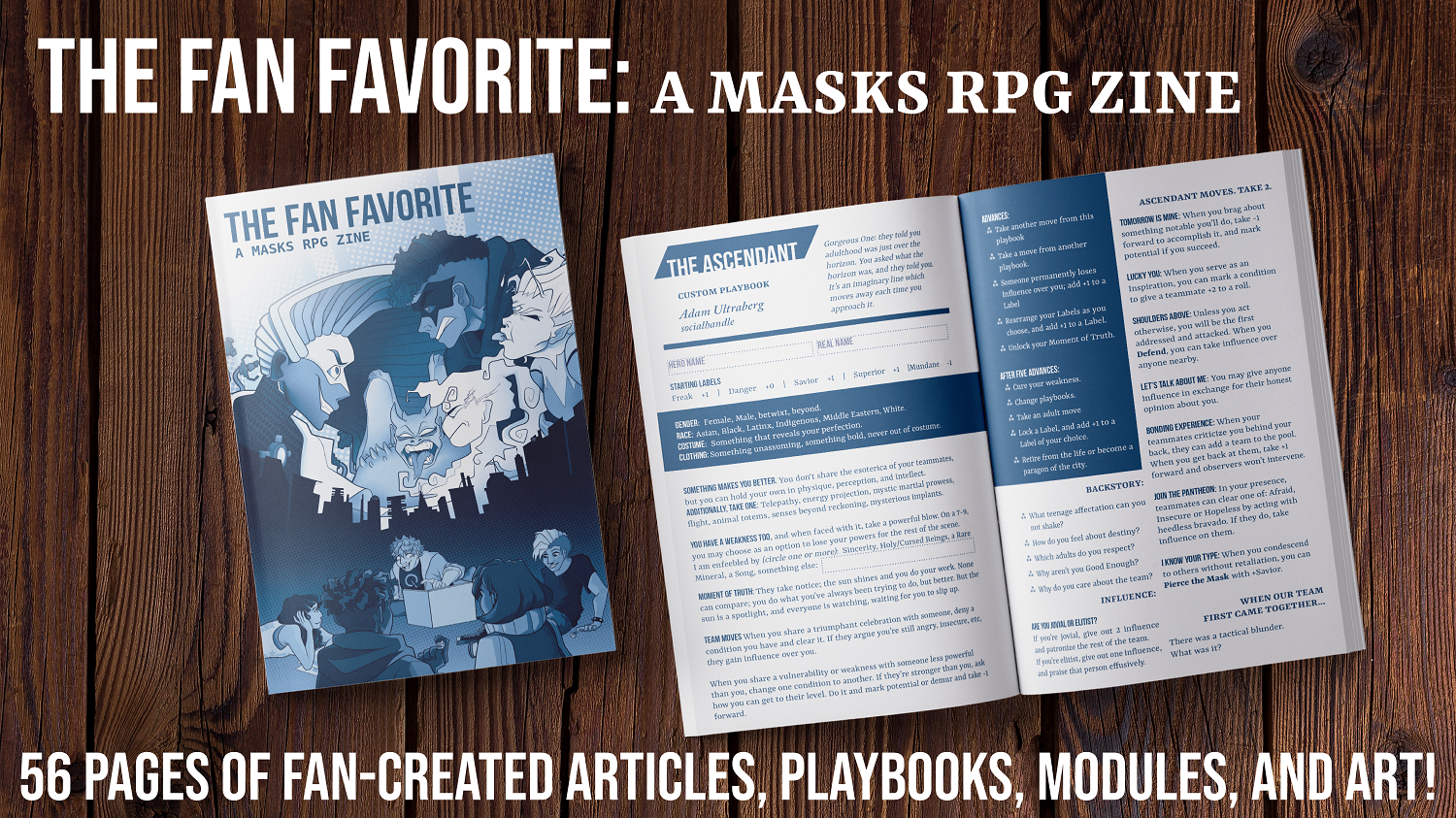 The Fan Favorite: A Masks RPG Fanzine
In A World...
Where you can be anyone at all, the most genuine kind of hero you can be...is yourself. Masks: A New Generation by Magpie Games is an all-ages RPG that has created worlds, friendships, and stories. These stories deserve to be told. We have sourced the amazingly talented Masks RPG community to support, create, and distribute an RPG Zine that showcases the many stories of fans, players, story-tellers, artists, and game-masters.

The Zine Includes:
Fanart of teams and heroes
Articles about running Masks for Teenagers, Big Group GM Advice, and the History of Masks
Stories from fans about their characters
Additional Moves for the core playbooks, Campaign Seeds, and a How-To guide for the MeRIT scholars from the Halcyon City Herald Collection.
One Shot Modules, including a puzzle-based module, "Rook to G4," a special Homecoming Horror story and a villain redemption arc, "In Cold Pursuit."
New Playbooks, including the Enduring -- what drives a superhero who has had their powers taken away from them to keep fighting -- and the Ascendant -- a beneficiary of destiny and privilege who must learn to respect the value of everyone and recognize their own faults.
All our contributors were paid near-market rate for their work, and our cover artist and editor were also hired for this project! We were funded and given the ability to pay our writers, artists, and all those involved in production!
Purchase
In order to download this Zine you must purchase it at or above the minimum price of $7 USD. You will get access to the following files:
The Fan Favorite_Final.pdf
8 MB