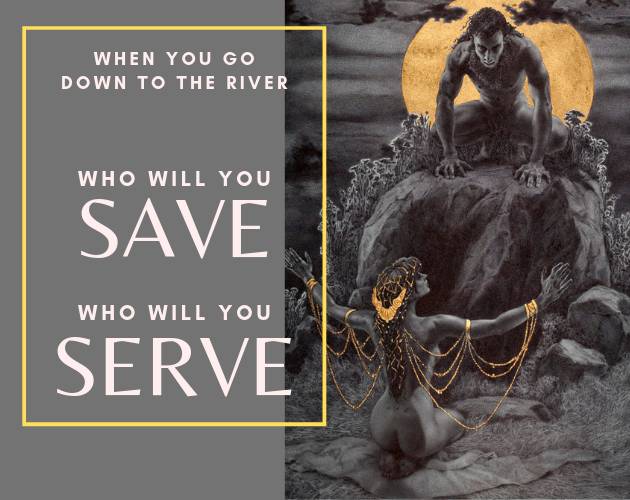 who will you save? who will you serve?
A downloadable Role Playing Game
This is a game where two players recreate the folkloric story of Shamhat and Enkidu. It is a game of power, consent, knowledge, loyalty, and love. It uses a deck of cards to help narration.
The Myth
In the old story, Enkidu is a wild man who has been freeing animals from traps set by hunters, destroying cattle pens, and leading wild animals close to civilization. He must be tamed in order to protect the people living in the valley. King Gilgamesh, a warlord, hearing these things, sends Shamhat, the sacred prostitute to tame the wild man. Shamhat and Enkidu spend two weeks together in the wilderness. When Shamhat returns, she relates to Gilgamesh that the wild man Enkidu has been tamed, and then returns to him, forsaking her life at the temple and living with Enkidu as a wife.
The Game
In the game one person will play Shamhat - the sacred prostitute, and the other will play Enkidu, the wildling. The game takes place over a series of interactions where Shmahat attempts to seduce Enkidu to lie with them. In doing so, politics and power will be revealed, and both characters will have to consent and understand what will happen if they do lie together. Underneath all this lies the simple fact: Shamhat and Enkidu are attracted to each other, in a way that neither of them can fully explain.
Purchase
In order to download this Role Playing Game you must purchase it at or above the minimum price of $4 USD. You will get access to the following files:
Community Copies
Support this Role Playing Game at or above a special price point to receive something exclusive.
Community Copies
Each copy of Save/Serve purchased at the suggested price of $4 adds one copy to the community pool for those who can't afford one at the listed price. These copies are also reserved for those of a marginalized community.