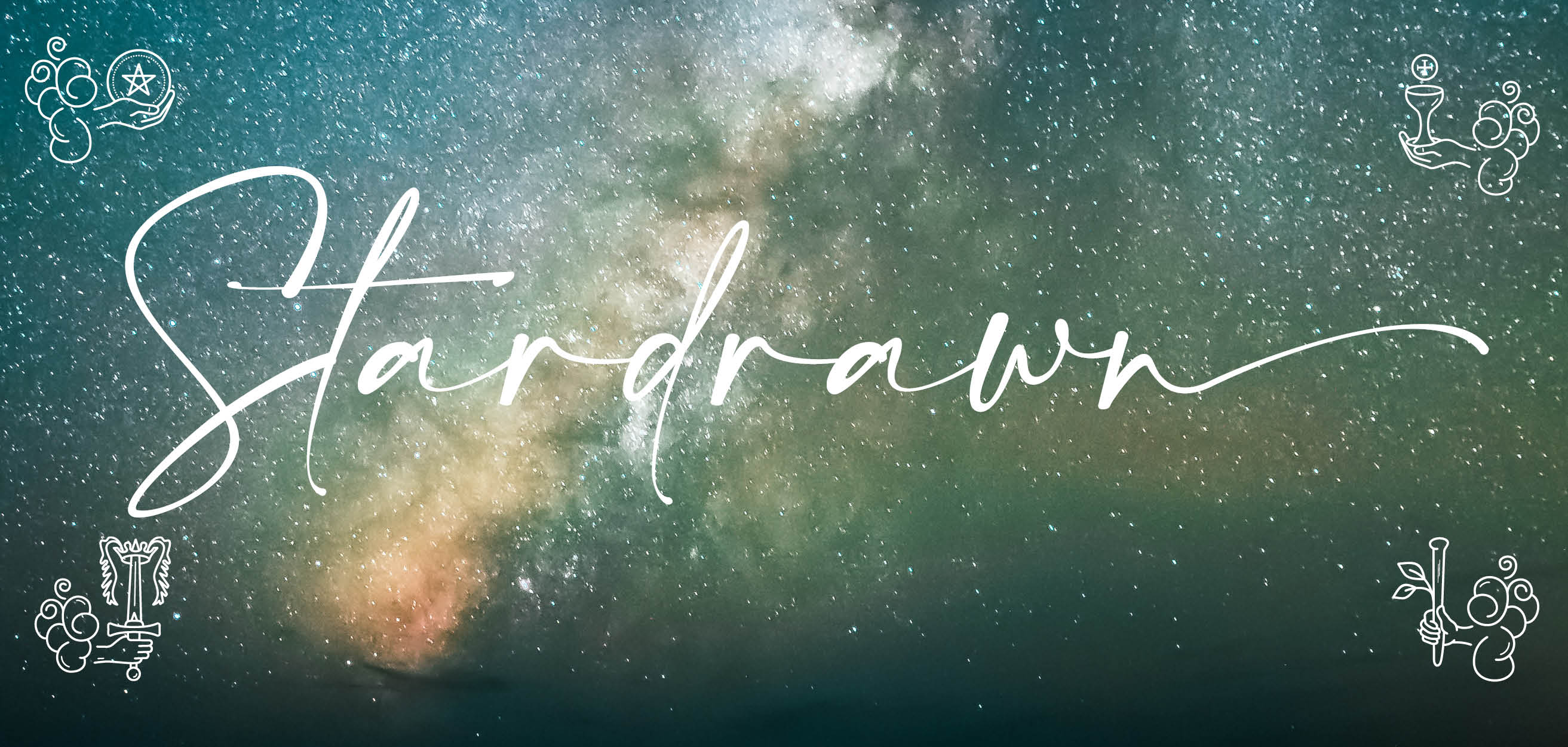 Stardrawn
You look to the stars, to space, to the vast black that is so alive and on fire and not empty at all, because each brightling flame in the sky is still there, still full of life, the planets breathing in their tidal, ancestral orbits of systems and species. You look to the stars, Pilot, fighter, 'riser, air-breather, light-seer, you who feel warmth and cold and loss and love, and you cry for them.
---
A storygame about a galaxy at the end of the war using Tarot cards to build plot, characters, relationships, and interactions.

This is a GM-less game for 1-4 players. You will create characters, bonds, stories, hopes, dreams, and even futures together, using Tarot cards and spreads to explore the galaxy. This is a game about a struggle past and a struggle present, but, as in many stories, there is always hope.
Characters will trade the Oculus as they play, allowing them to story build together, but also allow each player to narrate the story. There will be collaboration with the cards, with time allowed for revisions and suggestions of interpretations.
This game is best played in-person, with a communal tarot deck, and a common reference, which can be used or ignored as desired.
Stardrawn Quick Guide
Read through the rules to get an understanding of the piece
Read out loud the Scene Setting
Use the first Galaxy pull to understand the nature of the Final Battle and its effect on those remaining
Create your characters
Create the celebration; the lowest-ranking character goes first and becomes the first Oculus
Play proceeds to the left.
Using the Galaxy Card and the Past, determine the next spread you create
The Oculus interprets the spread
The Ascendancy offers Revisions
The Oculus Reinterprets, finalizes the story, and releases the Oculus
The Oculus moves to the left, and a new Galaxy Card is drawn
Continue until there are only enough cards for the Final Spread.
Play the Final Spread
References and Inspirations
--------
This game was written and designed in December of 2019 by Linda H. Codega for the #AdAstraJam hosted by KiennaS, deathbymage, and Dylan Grinder. You can find Linda on twitter @_linfinn, itch.io, and see their writing on their site. If you find the price a burden, just follow Linda on twitter, send them a DM, and they will send you a copy for free!
Purchase
In order to download this game you must purchase it at or above the minimum price of $6 USD. You will get access to the following files:
Stardrawn Game Document.pdf
168 kB
Stardrawn_Spreads and Records.pdf
50 kB
Community Copies
Support this game at or above a special price point to receive something exclusive.
Community Copy
Each copy of Stardrawn purchased at the suggested price of $10 adds one copy to the community pool for those who can't afford one at the listed price. These copies are also reserved for those of a marginalized community.
Download demo