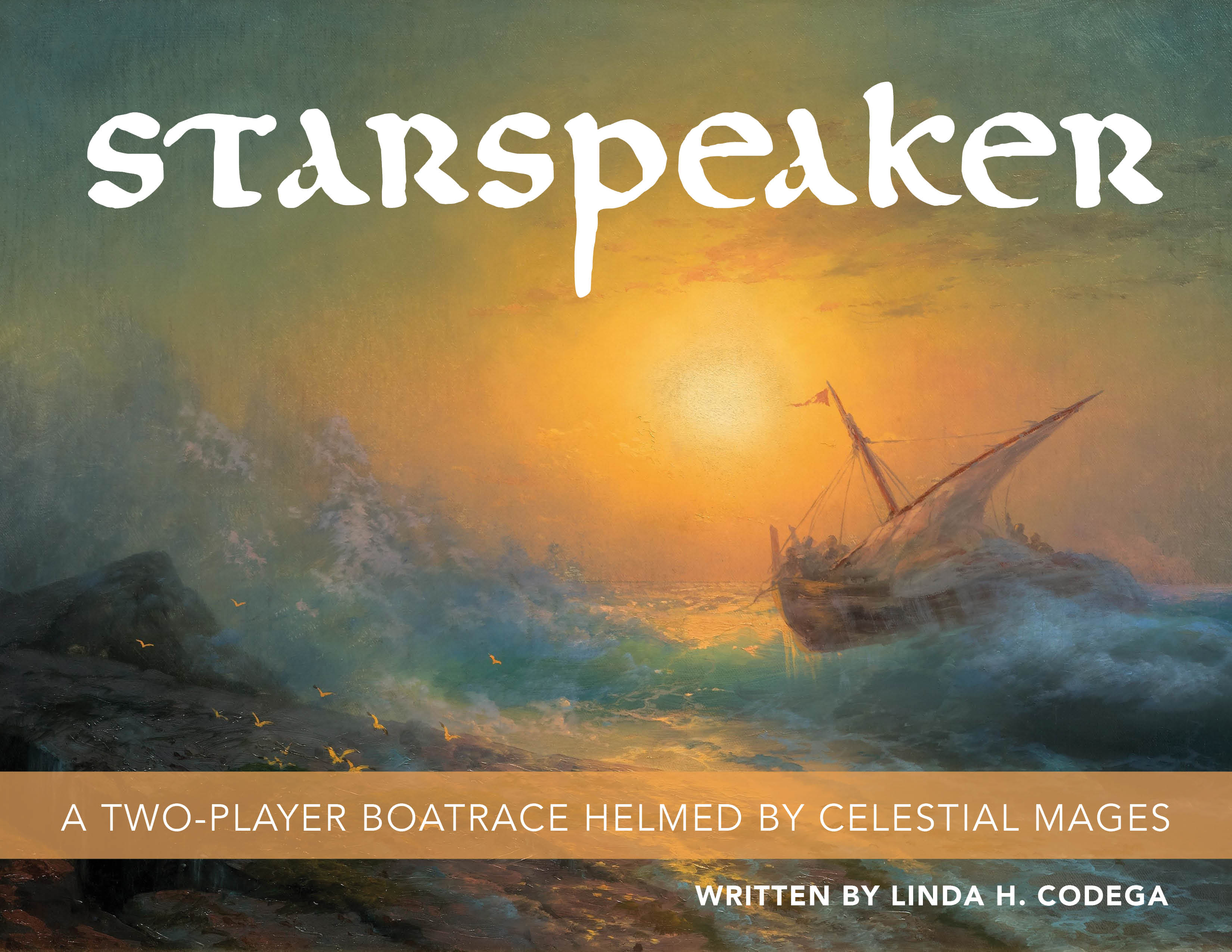 Starspeaker
You are a Starspeaker - a celestial ship-mage who crafts magic with the help of the stars, sun, moon, wind, and oceans. Your astrology helps determine positioning, the movements of other boats in the water, beasts that might be hiding in the depths, hidden challenges, and other hazards at sea. You are diviner and harbinger, and your power is both oracle and evocation.
The Siawseren and Rionnach mages are friendly, but competitive. The annual Starspeaker shiprace through the Ulian Islands is legendary; the full sailing crew of each region garners celebrity status. The game's goal is to finish the race first, avoiding as many hazards as possible, and incurring the least amount of damage to your ship. You do this by using different methods to draw new constellations in the sky, bringing magic down into the world.
The demos are all you need to play, and they are available for free. The pretty version you see is $5.00. Message+follow me at @_linfinn if price is an issue, and you'll receive the game, no questions asked.
This game was created by Linda H. Codega for the March of the Wizards Game Jam 2019; #wizjam2k19.

Starspeaker was created with some inspiration from the Knave OSR system. All interior images are from Clip Art Etc. The cover image is Stürmische See im Abendrot by Ivan Konstantinovich Aivazovsky, courtesy of Wikimedia. commons
Purchase
In order to download this TTRPG you must purchase it at or above the minimum price of $5 USD. You will get access to the following files:
Starspeaker_Full Book.pdf
4 MB
Starspeaker Character Sheets.pdf
27 kB
Community Copies
Support this TTRPG at or above a special price point to receive something exclusive.
Community Copies
Each copy of Starspeaker purchased at the suggested price of $5 adds one copy to the community pool for those who can't afford one at the listed price. These copies are also reserved for those of a marginalized community.
Download demo